School Info
Deborah K. Hall
Elementary Principal
deborah.hall@k12northstar.org
Address
1042 Lathrop Street
Fairbanks, AK 99701
School Hours
Students: 8:30 am - 3:00 pm
Office: 8:00 am - 4:00 pm
Announcements & Upcoming Events
PUMPKIN CONTEST WINNERS
The winners of the First Annual Pumpkin Decorating Contest are.....
Clairbella Pringle, Carmen and Nora Perry, Shia Walloe, Keegan Sampson, Kiana and Larry Ake.
Thank you to all of the contest participants, it was a very successful event and we look forward to next year!!
PUMPKIN CARVING CONTEST 10/24/14
Bring your decorated pumpkin to school on Friday, 10/14/14 in the morning and participate in the First Annual Denali Pumpkin Carving Contest. Pumpkin can be decorated in any fashion. Judging will be held during the day on Froday. Certificates will be awarded to all entries. Awards will be: 1 Grand Prize, 1 Principal's choice, Scariest, Funniest, and Most Creative. Grand Prize Winner will receive a set of movie tickets.
All pumpkins will be on display at the Halloween Carnival on Saturday, Oct 25 from 2-4:30 pm.. Come and enjoy the creations.
Pumpkins can be taken home at 4:30 Saturday or will be disposed of at the carnival clean up.
Saturday, 10/25/14 ** Halloween Carnival from 2 - 4:30 PM
10/27 & 10/28 ** Parent/Teacher Conferences
During conferences we invite you to stop by the cafeteria and check out the RTI interventions that we are using to help our Denali students reach their goals in reading and math. We will also have the Title 1 material available, and staff will be on hand to help parents get signed up on Power School.
The Scholastic Book Fair will be going on the entire week of Parent/Teacher conferences, in the library.
Kids learn practice is key to artistic growth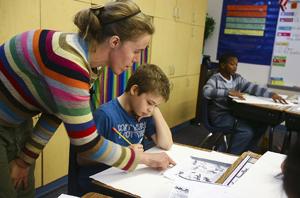 FAIRBANKS — Fairbanks artist Iris Sutton is known for her unique take on the colors of her home state's wildlife. Many of Sutton's pieces exhibit a playfully colorful take on the pristine beauty of Alaska.
Last week she took her colorful brand of painting to Denali Elementary School, where she taught students from kindergarten through sixth grade.
Sutton met with each class during the course of five days. During that time she shared the path of her own personal growth as an artist from childhood to her current position.
In a session with fifth-grade students on Wednesday, Sutton had students sketch out an Alaska animal on a large landscape piece of paper — they would go on to paint their animals in vivid color later in the week.
Read full article
Safety Letter from Mrs. Hall
August 2014

Dear Denali Parents and Families,
First of all, welcome back!! I am very excited to be Denali's new principal and look forward to meeting and working with you this year.
Over the course of the summer, one of the things I did was to review the Parent Surveys that were completed last spring and returned. I noticed that one main concern of parents was the Parent Drop Off and Pick Up Areas for students. After reading your comments as well as comments from staff, I met with district facilities management personnel and discussed what we could do to not only assure your child's safety, but the safety of all students here at Denali.
You will see on the link below, a map of the Parent Drop off and Pick Up Zones. We will continue to use the circular area and will send overflow to the large parking lot where you can use the long sidewalk to pick up or drop off your child. If you use the circular area at the end of the day, we ask that you pull completely forward (near the kindergarten playground) and leave the center lane open for moving cars. One important thing that we need all parents and visitors at Denali to remember is to not park in the circular area and leave your car to come into the building. This leaves blind spots for other drivers and is a safety hazard for all our children. If you need to come into the building at the end of the day, please park in the parking lot. Each day we have staff assigned to monitor drop off and pick up areas on both sides of the building to assure student safety, so please follow their directions.
Again, our highest priority is the safety for ALL Denali students and if we work together, we can make this happen. I appreciate your help and once again, welcome to a new school year.

Sincerely,

Debbie Hall, Principal

PARENT DROP OFF/PICK UP ZONES
To keep our student safe and the traffic flowing here at Denali, we have a special parking lot plan for our cars and school buses. Please click on the link below to download the parking lot map and directions, so you know where to drop-off and pick-up your child each day. Thanks for driving safely and slowly here at Denali! Student safety is our #1 priority!